IMSCAD and Amulet Hotkey team up to simplify Design Engineering migration to Graphics virtualization in private or public clouds.


London, UK, Sept 1, 2017 – Amulet Hotkey Ltd., a leader in design, manufacturing and system integration for remote physical and virtual workstation solutions, today announced a partnership with IMSCAD Global to bring advanced solutions that simplify the transition to graphics virtualization for AEC and Manufacturing firms.
The partnership intends to enable customers to maximize productivity and flexibility in an efficient way using virtualization solutions. Enterprise IT can avoid challenges associated with migrating to graphics virtualization and realize the benefits of an efficient and agile infrastructure that is easier to manage. Demanding professionals can realize the benefit of flexible work styles and improved collaboration through anywhere, anytime access to performance visualization applications. "We are excited to announce our partnership with IMSCAD that combines their expertise in graphical application virtualization with our expertise with virtualized workstation infrastructure," said Tony Hilliard, group sales director, Amulet Hotkey Ltd. "Design Engineering firms will be able to quickly and seamlessly migrate to remote workstation and virtual graphics solutions."
"We are delighted to partner with Amulet Hotkey to expand our solutions for graphical applications both in the Cloud and with on premise solutions. We deliver an essential service wrap that makes sure customers are successful," said Adam Jull, founder and CEO, IMSCAD Global. "Working with companies like Amulet Hotkey at the leading edge of technological development further demonstrates our commitment to be global leaders in this space."
IMSCAD consulting services key benefits:
Specialist Resources
Leverage our expertise from being on the forefront of graphics virtualization to ensure a smooth and successful transition to cloud based GPU projects.
Realize virtualization benefits
Help firms realize the benefits of virtualization such as flexibility, anywhere access, improved work-life balance to increase team productivity and reduced costs.
Avoid challenges with graphics virtualization
IMSCAD have the depth, knowledge and experience to craft the right virtualization strategy considering potential impact on existing infrastructure and processes.
User acceptance
We specialize in delivering the performance designers need, understanding their workflows and application requirement is something we have learnt over many years.
Broad solutions
Including Citrix, VMware, Microsoft, NVIDIA, Intel and AMD expertise.
Comprehensive support
From pre-sales, project scoping and advice on infrastructure through to deployment, optimization and ongoing support for all GPU based projects.
---
Amulet Hotkey virtual workstation infrastructure solutions key benefits including:
Workstation Infrastructure Specialists
Leverage our experience designing, manufacturing, deploying and supporting remote workstations in mission critical applications.
Comprehensive solutions
Including high-density blade workstations and virtual workstations as well as solutions to remote any system including rack, tower, legacy and closed systems.
CoreStation blade workstation
We develop unique remote workstation graphics cards for Dell blades using professional NVIDIA Quadro and AMD FirePro GPUs with Teradici PCoIP processors for performance, security and highly available blade workstations.
CoreStation virtual blade workstation
We develop unique virtual GPUs for Dell blades using NVIDIA Tesla with Quadro vDWS and AMD MxGPU with Radeon Pro software for agile, efficient and scalable virtual workstations.
Hardware zero clients
Our DXZ client endpoints eliminate common security exploits by implementing the remote display protocol in hardware for an exceptional user experience and ease of management. This includes models certified as secure by the UK Government and NATO.
For more information contact Amulet Hotkey or visit www.amulethotkey.com
---
About Amulet Hotkey
Amulet Hotkey is a proven innovator in design, manufacturing and system integration of high availability solutions for remote physical or virtual workstation, as well as virtual and cloud desktop that are optimized for both mission and business critical applications to deliver robust, secure and uncompromised performance backed up by world-class support. Amulet Hotkey partners with leading manufacturers of data center, cloud and virtualization technologies that enable them to bring to market unique solutions tailored to enterprise IT needs for a truly flexible and scalable computing architecture. Amulet Hotkey customers include Fortune 500 and Global 2000 enterprises as well as local and federal governments. The Amulet Hotkey solutions are deployed in command and control, emergency call centers, investment banks, oil & gas, CAD designers, digital content creation, and post production studios around the world.
Amulet Hotkey was founded in 1990, and is headquartered in the UK where design and manufacturing facilities are based with sales, support and technology centers in London and New York.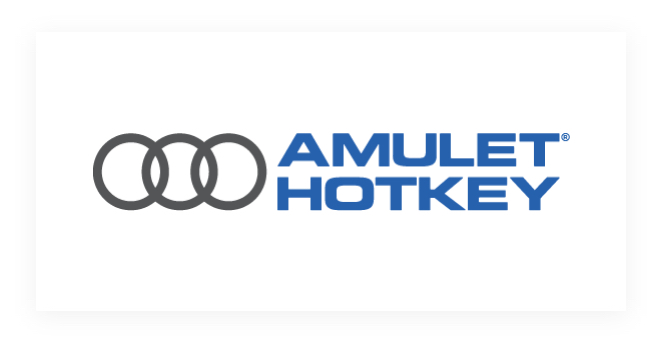 Amulet Hotkey is a trademark of Amulet Hotkey Ltd., and are registered in the United Kingdom, United States and/or other countries. Any other trademarks or registered trademarks mentioned in this release are the intellectual property of their respective owners.